Hello!
Do you know if your dog is overweight? Many of today's dogs are overweight or obese. When determining if your dog is overweight take into account your dogs breed, age, and size. Most veterinarians use a 9-point scoring system to evaluate the body condition of your dog. A 1 means your dog is grossly underweight while a score of a 9 shows your dog is extremely overweight. The ideal score is a 5, which is just right. First you should be able to feel your dog's ribs easily. The ideal dog will have a thin layer of fat over the ribs. However, each rib should be distinct. Dogs with protruding bones and muscle loss are too thin. If you cannot feel your dog's ribs at all, then your dog is very overweight. Second, check the area around the base of the tail. Once again, there should be a thin layer of fat over this area, and it should feel smooth. Third, feel other bony areas such as the spine, shoulders and hips. Each of these areas should have a thin layer of fat. However, when running your hand over the area you should be able to feel the bones beneath the layer of fat. If these bones are easily felt or visible your dog is too thin. Fourth, take a look at your dog from above. The waist and tuck up (belly area between the ribcage and rear end) are discernible without being prominent. If the waist is extreme or worse there is no waist area your dog is grossly overweight. Fifth, look at your pet from the side. Dogs should have an abdominal tuck (area behind the ribs should be smaller in diameter than the chest.) This area varies a lot depending on your breed of a dog. A very deep chested dog will have a very pronounced abdominal tuck. A very thin dog will have an extreme abdominal tuck while an overweight dog will have no abdominal tuck. Other symptoms that indicate an overweight dog include: less stamina, having a hard time jumping up on furniture or climbing stairs, and a decreased interest in physical activity. Please take a look at the chart below to help to gauge if your dog is overweight.
If you think your dog could be overweight, consult with your veterinarian. Your veterinarian can help you determine if there are any medical problems before you start your dog on a weight loss program.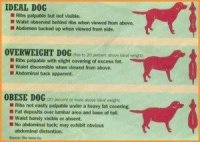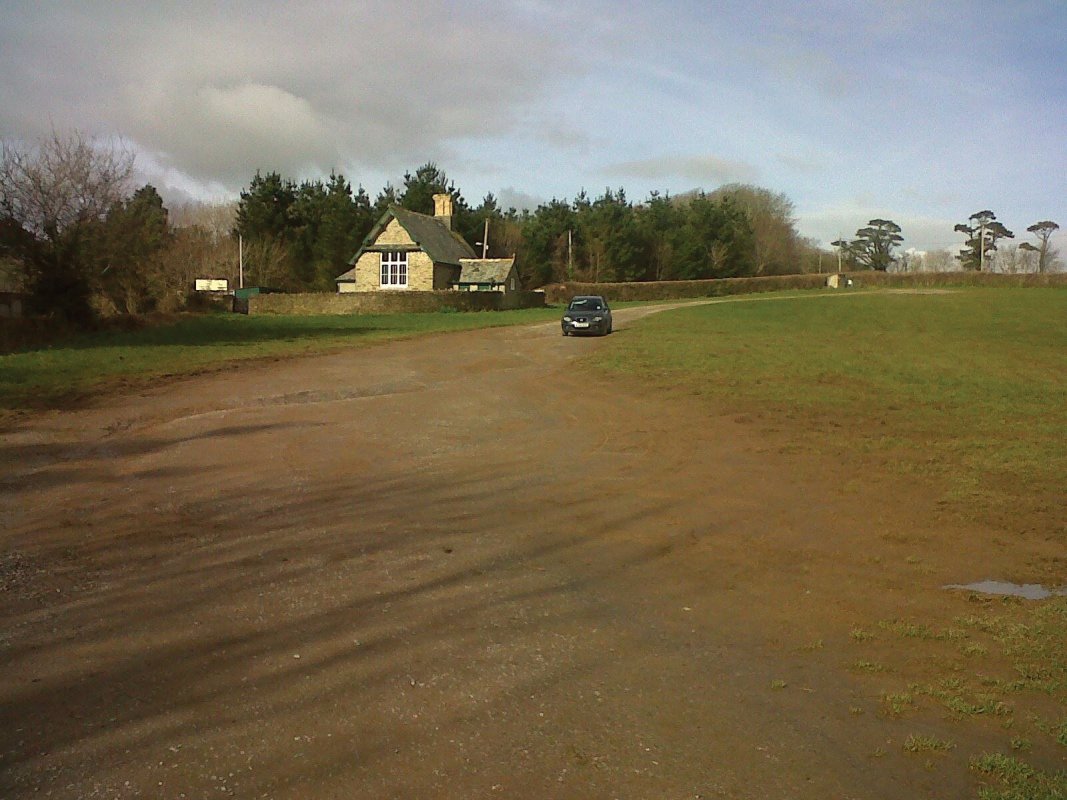 Hello!
Today the dogs and I set off for a mornings seaside walk at Mothecombe beach in the South Hams area of Devon close to Plymouth.  This is only a 15 minute drive from where I live...I'm so lucky!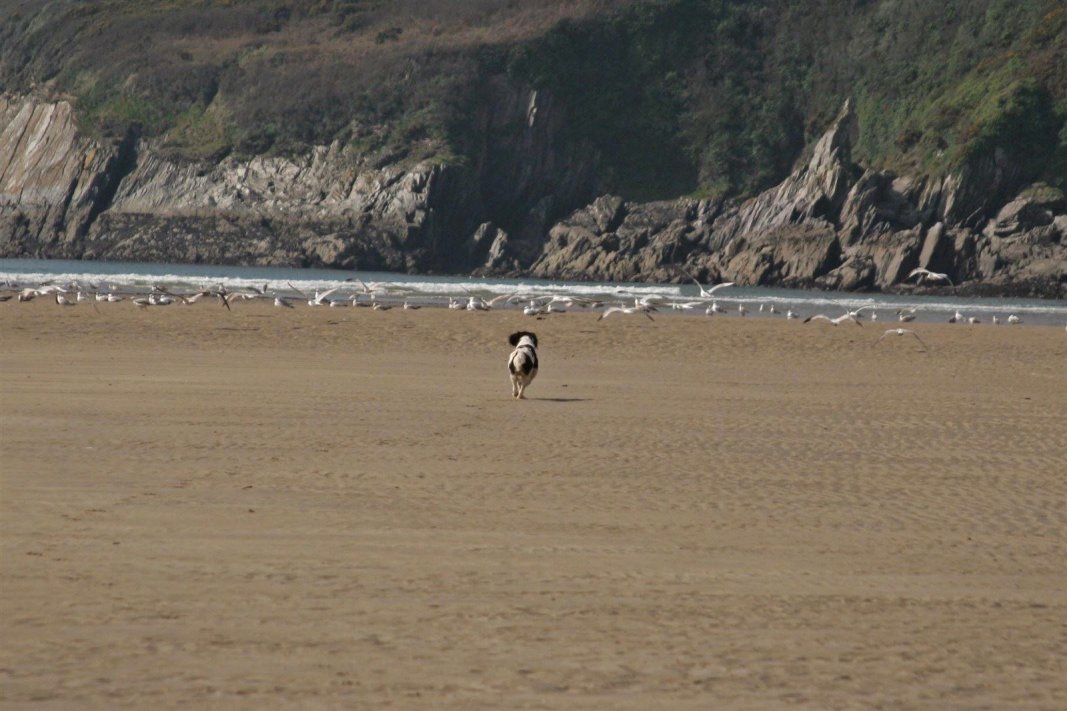 When we arrived at the car park my car was the only one there, as you can see from the photo; in the summer it's nearly impossible to find a parking space. On the beach, not a soul to be seen...just me and my doggy pals who charged around in the sand chasing each other or racing after seagulls - and digging holes!! We all had so much fun.
 This is winter walking at it's very best...peaceful and beautiful.
Take care
Lee
PS I have some more photos of the beach and dogs taken today, but I'm having problems downloading them onto my computer...it's a new mobile!!! I will try again tomorrow!
Training your dog to walk well on the lead is very important. If you don't train your dog to walk politely and respectfully on the lead then you will be guaranteed a doggy lifetime of being yanked and dragged around.  It all adds up to the dog owner feeling frustrated and the dog being in charge; not a combination that is healthy.
Of course, there are plenty of aids to control a dog when on the lead ie. halties and harnesses, and sometimes it can be trial and error until you find the correct control lead for your dog. By far the best solution is to take some time teaching your dog to walk well on the lead.

Have a look at various techniques on the internet or in books, and decide which one you are going to use.  Stick to whatever method you choose, take time to train often, and soon your dog will be trotting nicely by your side. Believe me, it's well worth the effort.
Happy walking!
Lee

I spend a lot of time out and about in the country side, and often come across the electric fences that farmers put up to protect their stock.  By electric fence I mean a length of thick string that stretches from upright metal spokes that are about a metre high. This is wired into a battery that, when switched on, electrifyes the string. If you or an animal touches this live fence then a shock is given out, not painful, but enough to scare you or the animal!!  I heard a very alarming story with regard to one of these fences, and I wanted to pass it on to you all as a warning as to how scary they can be.
It was a very wet day ( surprise! surprise! ) and my friends' dog was soaked to the core. The dog was snuffling around close to one of these electric fences and his body touched the live string.The dog was thrown into the air with the shock and he landed on his back, letting out a horrible doggy scream. We all know what the result can be with wet and electricity, and because the dog was soaked he had a massive shock given to him. My friend thought that his dog was dying, and apparently the dog laid curled up for the rest of the day with glazed eyes. The dog did recover, thank goodness, but a smaller dog would most definitely had died, and I found the whole story very upsetting.
Please watch out for your dogs when out in the countryside.....it can be a very dangerous place!

Hello!
Another wet and windy day, but still lots to enjoy out dog walking!  I have loads of wet weather clothes to wear, and if I'm wrapped up and have my trusty umbrella and comfy wellies I am happy to walk for miles.  Then, after dropping off all of the dogs that I have walked (having dried them off!!) I go home and light up the wood burner...another winter treat!
Lee

Hello all and welcome to my first blog!

Today I've been to the beach walking dogs (of course!).  It was fabulous as the Canada Geese were flying over us in dozens of skeins, settling down for the night to graze on fields, on route to other climes.  It makes the reality of Autumn days getting shorter ever closer, and winter is on the horizon. Time to think about having your much loved dog walked by Personal Pet and Home Care before you get home in the dark, saving you having to trek out into the cold night!!! Give me a call or send an e-mail/text!!
Lee

/